Starting a construction company has become a very popular business startup idea. If you're thinking of starting one, then take a look at these five things you have to consider:
Employees
It's very hard to do big construction work all by yourself, so you're going to need a team of workers. You'll have to employ people for all kinds of jobs in your company. You'll need manual labor workers, along with supervisors and licensed equipment drivers. Of course, you may need other employees too, it depends on how big you want your company to be. Make sure you interview everyone thoroughly and hire people based on their talent and experience.
Health & Safety
One of the main things to remember when starting any company, is the health and safety regulations. Make sure you abide by all the rules, and that everything you do is safe and within the law. This means you'll have to do your research and study the relevant laws and standard practices for construction companies. When you're working on-site, everything needs to be safe in case someone suffers an injury. If one of your workers gets injured because you didn't have the correct safety procedures in place, they can sue you. In fact, your whole company can get shut down if you make one health & safety error, so don't be foolish, abide by the rules.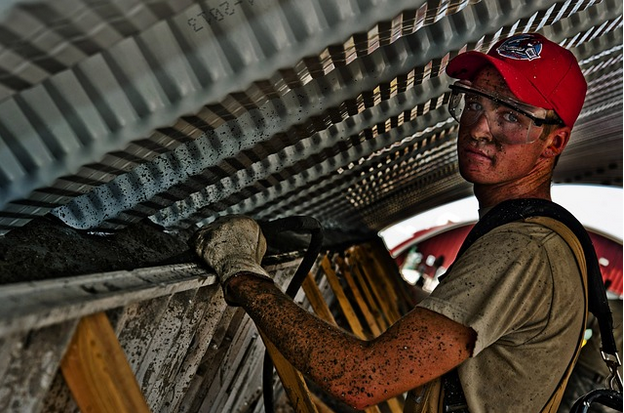 (Image via pixabay https://goo.gl/GqXL4B)
Equipment
You can't start a construction company without all the proper equipment. You'll need to get a whole load of things, wheelbarrows, power tools, etc. Ordering this equipment will take a long time because you need so much of it. And then you have to remember all the necessary safety equipment too! The most important thing is to get quality equipment that won't break, yet is still within your budget.
Vehicles
You're going to need a fleet of vehicles if you want to set up your own construction company. You'll need a range of vans to transport people and equipment from place to place, but you'll also need construction vehicles too. It's important that you can track your vehicles at all times, so no one drives off with a van full of equipment. You should use quality fleet tracking services to help you keep an eye on all your vehicles. Most of these services use GPS, so you should be able to track the vehicles at all times.
Office
It would be a good idea for you to hire out an office as a 'base' for your company. If you have an office, then it's somewhere for people to visit and for you to conduct meetings. Also, you could hire a secretary and have them in the office to take calls from clients, etc. Plus, it makes your company look a lot more professional if it has its own headquarters.
You must take these five things into account when starting your construction company. If you don't, then it's going to be tough for you and you'll struggle to survive.