Summer is here again and that means we are going to be spending a lot of time out in our garden, getting a lovely tan. Unless of course you live in a place where the sun appears once in a blue moon, like Scotland…or England. Then, you may be spending those rainy days inside your home and wishing it was a nicer place to be. If this sounds familiar we suggest you start improving the room you spend most of your time in. That would be the living room. Think about it, you invite guests into the living room, converse with loved ones and watch family films. It is the most important room in your house, so let's add a little luxury to it.
Clean It!
We are not going to start by asking you to pay a fortune when there are simple ways to make your living room gorgeous. You can begin by giving it a good polish. Take our advice and buy scented furniture polish. It will make the room smell fantastic once you are finished. Then go to work with the vacuum and be sure to use all the little add ons to get rid of the buildup of dust where the walls meet the floor. If you have any pets, you may want to think about upgrading your hoover. Typical vacuums tend not to be able to cope with the billions of hairs our furry friends leave behind.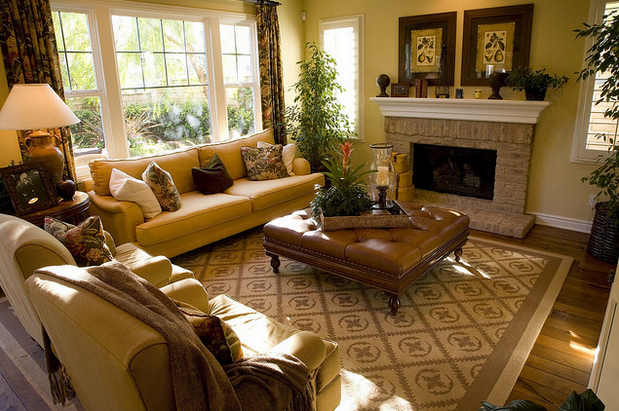 Adjust It
We still haven't suggested you spend any money on this project, and you still don't need to. Try moving around your furniture and experimenting with different stylistic choices. For instance, you can think about moving the furniture off the wall or putting different pieces in other rooms. You may want to get rid of accessories to decrease the clutter or add some that accentuate the best features of the room. By doing this, you will love your living room more because it will be a clean space rather than a jumbled mess.
Light It Up
Are you ready to start spending some of that hard-earned cash? We know where we would start, and that would be with the light fixtures. By changing the lighting of a room you can change the perception of it completely. A bright light will get rid of the shadows and make even the smallest living room look like a wide open space. If you want to make your living room more soothing, or the perfect place for movies, add a dimmer light. This is perfect for those Saturday evenings, curled up in front of the TV. You could be a little ostentatious and buy a Quorum Light fixture for your living room. Just think how stylish and glamorous it will look with a chandelier!
Furnish It
Then again, maybe you are tired of your current furniture and that is where you want to start. This is the perfect excuse to get the leather sofa you have always wanted or the stunning glass coffee table you saw online. Remember, living in luxury is not just about style, it is also about being as comfortable as you can be. What better way to achieve this then buying a reclining chair for your living room. We know we would love one in ours. If you shop online buying these pieces of furniture does not have to mean breaking your bank account.
Have fun improving your living room this summer with these ideas. When you are finished, we are sure it will be a place for luxurious living.