How to Build a Kids Bed: 5 Examples of Cool DIY Attempts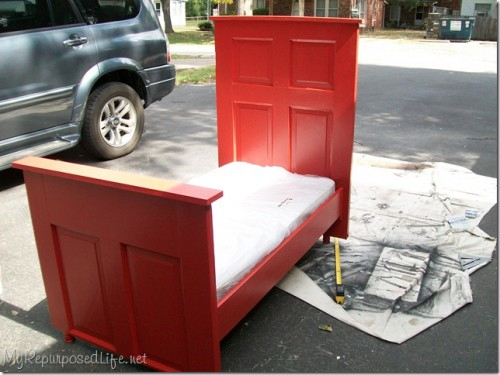 One of the things that they do not tell you about before you have kids is how expensive things can be. Take nursery and bedroom furniture for example, in some cases cots and beds for babies and toddlers can end up costing more than what we adults would pay for our own beds!
If you are the parent of a toddler and you simply don't have the funds to get a new bed for them, one thing you could do is make your own bed! It isn't particularly difficult, all you need is a few basic tools, some common sense, and some spare (or free) items that you can repurpose. If you don't mind going for a slightly Bohemian look, then take a look at these 5 cool ideas for creating your own toddler's bed!
Look at the below DIY bed ideas and get some inspiration for your own!
1. The wood door toddler bed
This toddler's bed started out life as a wood door. To create your own, you will need the following tools and materials:
Sandpaper, paint

Measuring tape/ruler

Jigsaw

Clamps

Drill (if creating feet for the bed)

Pencil/pen/marker pen

Wood glue

Screws and screwdriver

Medium sized "L" brackets

Wood planks (to support the mattress)
The door you select must be solid (i.e. not hollow in the middle), and if you plan to raise the bed off the ground like in the example above then you will need to fabricate some feet for it (or buy some ready made). You will need to sand it down a bit so that it is nice and smooth, and then paint it before you start to build it.
2. The pallet toddler bed
If you don't have a door spare, how about a pallet bed? OK so technically this wasn't made out of actual pallets (they aren't suitable for kids due to being treated with chemicals to make them last longer in the sun), but the pallet effect looks pretty cool and very DIY, don't you think?
You will need to buy lots of wood planks for the overall construction, casters, nails, nuts and bolts. The tools you will need are pretty basic really – a saw, screwdriver, hammer, measuring tape/ruler, and a pencil or similar for marking your measurements out.
I would probably recommend putting some sides on this though, as there is nothing stopping the mattress (or your toddler) from falling out of their bed!
3. DIY upholstered toddler bed
This DIY upholstered bed looks like something that was professionally made by an upholsterer, but actually it was only a DIY job that took about 3 hours!
All that was required was a few planks of wood, some foam for padding which is stapled to the edges of the wood planks on the sides and the headboard, some quilt batting/wadding that is then layered over all the wood and foam, and of course the fabric for covering it.
4. DIY upholstered toddler bed #2
This is another DIY upholstered toddler bed, which is virtually identical in construction to bed #3 above, but on a larger scale!
5. Playhouse loft toddler bed
This is the ultimate DIY project – a playhouse loft toddler bed! Ana White has written a comprehensive set of instructions on how to build it.
Your shopping list for materials isn't particularly extensive – just wood, screws, nails, wood glue and filler, and paint, same as the other projects – but this one is more labour intensive.
Judging by the image above, the end results are certainly worth it!
For everyone who isn't as adventurous as the guys that made the DIY beds above, there's always the safe option of visiting a bed shop like BedzRus and purchasing a bed online.