If you own a manufacturing business, then this article will help you. Carry on reading to find out how you can get more out of your company:
Only Focus On Manufacturing
Some small manufacturing companies struggle because they get tied up in other things. As well as making stuff, they decide to distribute it too. This means organizing a distribution network and getting people to deliver everything to clients. My advice is that if you want to start a manufacturing business, then that's what the focus should be on. Put your money, time, and effort into making things. Don't worry about distribution. You should look at securing clients and contracts for the goods you make. When they sign on the dotted line, they'll have their own courier service come and pick products up from you. Similarly, don't worry about packaging too. Often, manufacturing companies make parts for products. You sell parts to a company, they pick them up, fit it to their product, and package accordingly. There's no need for you to waste your time worrying about how things are packaged.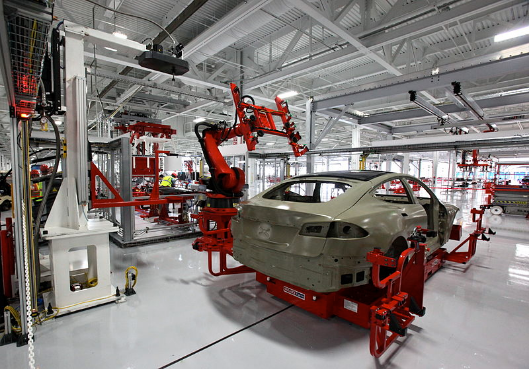 (Picture source: https://goo.gl/TnJIZ4)
Have All Your Equipment On-Site
You can run a much more efficient business if all of your equipment is on-site. This means getting all the manufacturing machines and tools you need, inside your premises. Some companies do certain processes in one place, then send it elsewhere to get finished off. But, it makes more sense to handle everything on your own, as you can make more money. One of the key things you'll need is a finishing system. This helps you put the final touches on your product before it's completed. Systems come in different varieties, and you can learn more by reading some info about Reliant Finishing Systems. Of course, you can't forget about the rest of the equipment you need too. Purchase everything you require and keep it all on-site. Believe me; it makes a big difference to have everything in one place. You'll be more organized and productive.
Combine Humans And Technology
These days, there is so much manufacturing tech out there. Some businesses are using robots to help them make things. A lot of the equipment you buy will be machinery. These machines will operate on their own and do things automatically. So, it stands to reason that you won't need human employee's, right? This is what some people think, and they end up digging a hole for themselves. The fact is, you need a combination of technology and humans. Human workers can still do things that machines can't. For example, they can think freely and make decisions. If something is going wrong on the operation line, a machine won't understand that. It will carry on doing its job and make things worse. With humans, they can assess problems and sort them out before they become big issues. It's better for your business to use machines but retain some human input too.
These tips should help you improve your business. You'll have a more efficient company and can make more products and earn more money.