Starting a new business is often a time of mixed emotions. Yes, you get to be your own boss and no longer have to work for "the man." But, the downside is that you will have to work harder than you've ever done before to bring home the bacon.
It's no secret that some business ideas are cheaper and easier to put in place than others. For example, a web designer will have fewer startup costs and overheads than a new train operating company!
Sometimes there are business ideas that can either be easy or challenging to fund and manage. Window cleaning is one such startup idea. Do you want to work for yourself? And do you prefer working outdoors instead of getting stuck behind a desk all day long?
If the answer to those questions is yes, setting up your own window cleaning business could be the best decision you've ever made! But what's involved with setting up such an enterprise?
Today's handy guide will walk you through the steps needed to get your new window cleaning business off the ground. In all sense of the word!
Do you maintain a fit and healthy body?
Before you turn your business dreams into reality, there's one important question you need to answer. How fit are you? The thing about cleaning windows for a living is that it's a demanding job.
As with plasterers and builders, you'll spend a lot of time and energy walking around. You will also need to perform various physical tasks. As a window cleaner, you will doubtless have several domestic and business clients to see each day.
If you find it tough cleaning the windows in your home, setting up such a business might not be for you. But if you relish the challenge, and you maintain an active and healthy lifestyle, keep reading!
What will be your target market?
By now you will be quite serious about setting up your window cleaning business. So let's get down to it! One of the first points to consider is what your target market will be. You have to three main choices:
Domestic customers;
Commercial customers;
Both domestic and commercial customers.
Do you have little money to invest in your new enterprise? If so, it makes sense to start small and only target individuals that need their windows cleaning once a month.
What equipment do you need?
Domestic window cleaning clients are cheaper to get. You don't need to spend significant sums buying tools and machinery. In reality, all you need is a ladder, bucket, sponge and squeegee!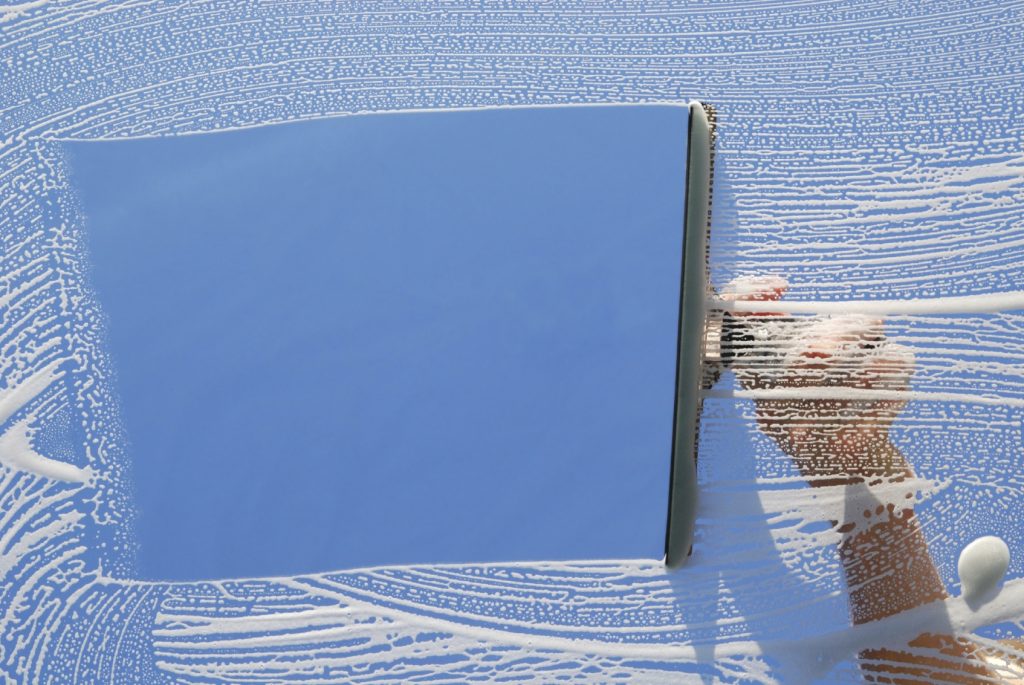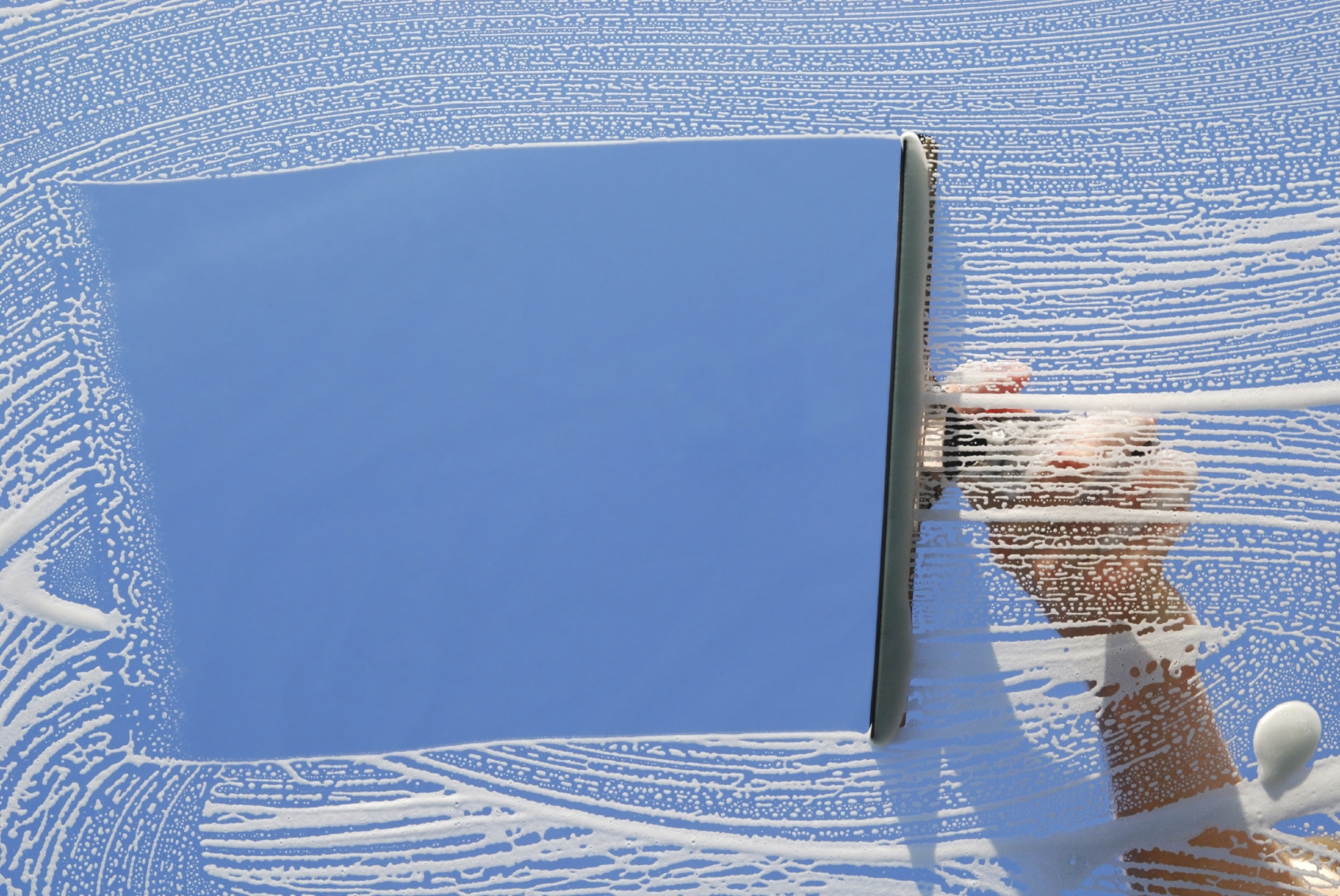 But, if you want to make a bigger income from your window cleaning business, you will need to think big. Commercial customers are a firm favourite with many window cleaners. That's because of the increased earning potential.
Of course, increased earning potential usually comes with increased costs in the business world. You could get asked to clean windows on all sorts of buildings. Examples include small office blocks through to large factories, skyscrapers and other towering structures.
To clean the windows on some buildings, you might need to use a cherry picker. I know what you're thinking: they are expensive, right? The good news is you can pick up some bargain used boom lifts from websites like Plant Trader.
As your business grows, you can always trade your used equipment in for newer items should the need arise. And, as your revenues grow, you could invest in time-saving equipment like "reach and wash systems."
Regardless of your target market, you will need to decide what equipment your business needs and how much they will cost. These prices can form part of your business plan, so that you know what capital you need to invest.
Do you need training?
You might think that anyone can clean a window. That may be true, but few know how to do so efficiently and with minimal haste. Believe it or not, some self-employed window cleaners often make a mess of their work!
Are you unconvinced in your abilities to clean windows well? If so, you can always check out videos on sites such as YouTube for help. Organisations like the Federation of Window Cleaners can help you with training courses.
Not only do they show you how to clean windows, but they ensure you do your work by following the best health and safety practices. You'll also get a certificate that proves you are competent enough and have the right skills to clean people's windows.
When you're working at a great height, it's essential you know how to stay safe. It doesn't matter whether you use a ladder or a cherry picker. Or even whether you abseil down the side of a building or not! One foot wrong and you could end up paying for your mistake with your life!
When is the best time to quit your day job?
The trouble with starting a new business is that you still have to pay your bills. If it takes time to establish your new enterprise, you will need to cover your outgoings in the meantime. The last thing you want to do is end up broke and depressed!
Before you set up your new window cleaning business, you should save up enough money to cover at least six months' worth of outgoings. That way, you won't have to panic about how you're going to put food on the table, as it were.
Some people also prefer to start their new window cleaning enterprises on a part-time basis. That gives them the opportunity to do other paid work in the meantime. It's a decision that proves to be quite wise for most people new to the world of self-employment.
If you work for a company as a window cleaner, there will be an obvious conflict of interest with your new business idea. In such scenarios, it's best to quit your job before starting up. Otherwise, you could end up in legal hot water if your employers thinks you've poached their customers!