If you are running out of space at home because your family is getting bigger, there are several options available to you. The first and most drastic step to take could be to move house. Many people hate change so this may not be the best solution for you. Another great way to gain valuable space it to build a two story extension on your home. This presents different problems. Firstly, there will need to be plenty of land available to build on, and the cost of the construction can often be prohibitive. As a third option, a loft conversion could be just what your home needs. Loft conversions are easier to carry out than a two story extension and may only be a fraction of the cost.
Here's how to plan your own loft conversion
Access
The loft will require a safe way to get in and out, especially where children are involved. Often there is a walk in cupboard somewhere upstairs that, with a little alteration, could be the perfect solution for access. Maybe a bedroom can be made smaller so that a staircase can be fitted.The quality of a loft conversion is partly based on the quality of access to it.
Services
Of course, you will have considered what the loft is going to be used for. The chances are, that since it is such a large space, there will be more than one room up there. An extra bathroom is a popular feature of loft conversions as are bedrooms. Pipework will need to be installed before and boarding out can take place. Maybe you will need to have a new plastic water tank designed and built by Covac plastic tanks, or another manufacturer, to fit neatly into an awkward spot where it can remain out of view. Think about power outlets and lighting too as cables will need to be installed for these.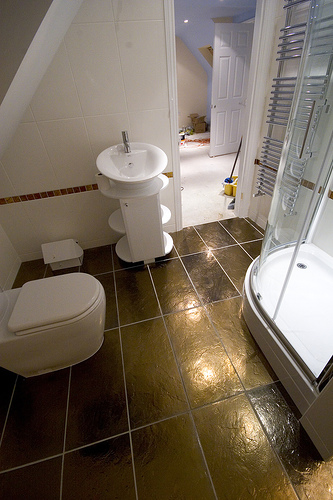 Floor
In the worst case scenario, you may find that the ceiling joists are not substantial enough to carry the weight of an extra floor. Don't panic, however; this doesn't necessarily mean the ceilings will need to be replaced. Using steel girders or new wooden joists, a new floor can be created above the existing one. This may compromise the amount of headroom up there, so careful measurements need to be made.
Light
Natural light and a way to escape from a fire are vital components of any loft conversion. If there is a flat wall at the end of the loft, it is an obvious place to install a new window. The opening sections of the window may need to have child safety latches fitted if there are young children about, but they must be large enough for an adult to climb out of if needed.
Windows are straightforward to fit into the sloping roof itself since products came on the market for just this purpose. The number to be fitted into your design is up to you. You can't overestimate the amount of light the loft will need. If there is too much, blinds will be fitted to block some of it.
Light creates a feeling of space.
So there are the most important things you should consider when planning your conversion. When is is complete, not only will you have a stunning usable space, but you will have added thousands onto the value of your home. That is why this project is so appealing.