How To Create a Modern Bedroom Design: With Examples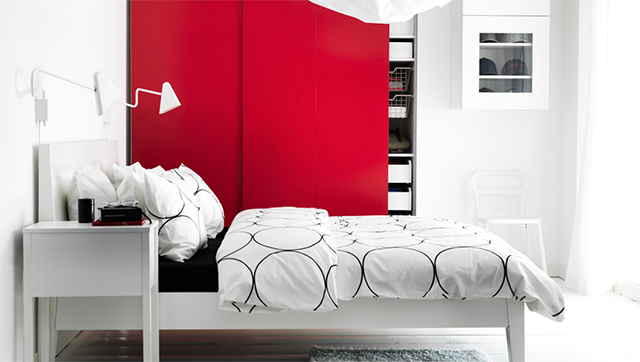 Our bedrooms are our sanctuaries from the outside world. Some people keep their bedrooms looking fairly basic, with just a bed and a bedside table with lamp, walls painted with a rather anonymous white colour. Other people prefer to add a bit of style and colour into them.
If you feel that it is time to give your bedroom an upgrade but you are a bit stuck for ideas, then you need to take a look at these awesome examples on how to create a modern bedroom design!
Light and Airy
First off is this light and airy design idea courtesy of IKEA, for those of you that want to stick with a mostly-white theme. This theme is particularly suitable for smaller bedrooms, as the white colours give the impression that the room is bigger than it actually is, yet the red wardrobe helps to break things up.
Here are the main items needed to help you achieve this look:
Italian Contemporary
This Italian contemporary theme is inspired by the "Olona" wenge-effect style from Dreams, and will not only jazz up your bedroom but also add a touch of class and style.
You could achieve this look using the following items:
Vanilla Gloss
If you fancy something contemporary with a slightly retro kick to it, then maybe a vanilla gloss themed bedroom is just up your street! Its light glossy colours mix well with the warm wood colours, and items such as the chair give it a bit of a retro feel too!
Here are some ideas of what you could use to achieve this effect, inspired by B&Q:
Designer Greys
This really modern designer grey look makes your bedroom look stylish, open, airy and probably the masterpiece of your home!
This example was created by trendy home furnishing experts Living It Up, and is perfect for people that want to create a truly modern feel to their bedroom but do not want it to look cluttered.
If you want to achieve this look shown in the example above for your bedroom, here is what you can use: