Does your business have scores of people working for it? If so, you will no doubt have plenty of computer systems in use at any one time. There will also be a vast amount of data getting sent and received across your network.
As you can see, there is a need to deal with such high volumes of data, and to enable people to share files with one another. That's why most companies have their own dedicated server rooms.
In a nutshell, server rooms are places within office buildings that house a lot of weird and wonderful technology. Everything from file servers to network switches and routers are often found in server rooms.
Is it time that your office had a dedicated server room? Not sure how to set one up? If the answer to both questions is yes, today's handy how-to guide will tell you what you need to do!
Room for expansion
When planning a server room build, the golden rule is to ensure that you have plenty of space available for future expansion! It's a pointless exercise building a room that is only big enough to house your current equipment.
As your business grows, and its demands change, so too will your need for IT equipment. In the future, you might need to install more servers, network hardware, and other technology.
Server cabinets
All good server rooms have server cabinets. These are metal cabinets with rails inside of them to fit server racks. You might see servers advertised as being "1U." A "U" equates to two inches. So 1U is two inches, 2U is four inches, and so forth.
Instead of using conventional PC towers to run your servers, you can build or buy servers that are rack-mountable. They save space and offer you the ability to keep things neat and tidy in your server room.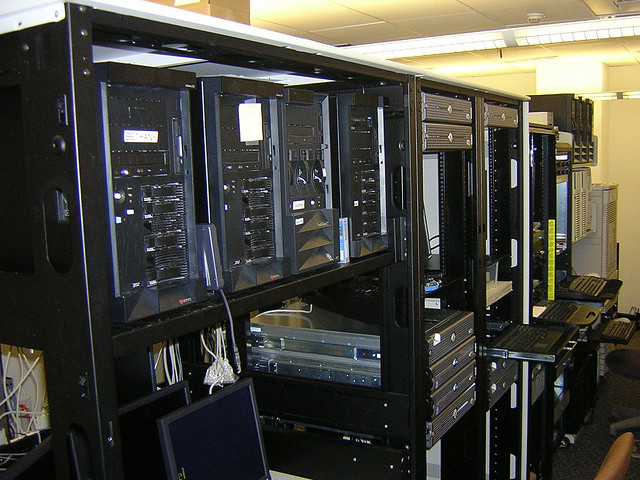 rbowen (obtained from Flickr)
Air conditioning
Temperatures will soar in a room with plenty of electronic gadgets running 24/7. That's why it's important to have an effective air conditioning system in place. The air to air industrial heat exchanger thermal-edge.com sells is great for server rooms.
You will need to have an air conditioning expert come out and discuss what your server room will need. That's because it will be them that have to install the systems for you.
Security
You don't want any old person walking into your server room for obvious reasons. The good news is there are plenty of ways to secure the room so that only authorized personnel can enter.
For example, there are biometric systems that you can install. They check fingerprints or even do eye scanning to ensure you are who you say you are! Of course, there are more conventional means to secure your server room too.
Locks, smart card systems and even security guards can also secure your data on-site. Now you have the basics of how to set up a server room, it's time to get busy! Remember to use experts for anything you aren't too sure about.