Most of the readers that are used to display PDF files on Macs don't have any editing tools whatsoever – meaning you can read the files, but not alter them in any way. On the other hand while there are several different types of PDF editors out there you are likely to find that many either lack critical features, or are professional-oriented and come at a prohibitive price.
Assuming you would like to be able to read and edit PDF files, there is one option that may satisfy your needs: Movavi PDF Editor for Mac. It has all the features of other Mac PDF editors, but without any of the common drawbacks.
In terms of viewing, Movavi PDF Editor for Mac is more than capable of reading any PDF documents whether they are plain text, booklets, brochures, forms, and so on. It is also able to read image files in JPG and PNG, and will allow you to open multiple tabs with different documents or images simultaneously so that you can work on them.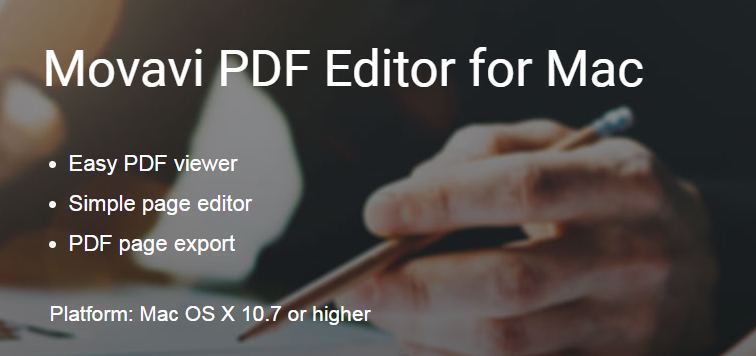 As far as editing PDF files is concerned, Movavi PDF Editor for Mac will let you update your PDFs with new information, or add new pages to it. If you want you could rearrange the order of pages, extract individual pages to save as standalone PDF files, rotate the orientation of pages, or remove any unwanted pages from a PDF document.
Within Movavi PDF Editor for Mac you'll also find several tools that allow you to merge PDF documents – allowing you to compile multiple PDF documents into a single file, or add pages to one. It is able to export documents and projects in other popular formats such as Word, Excel, Photoshop, or AutoCAD and store them as PDF files or add them to an existing PDF document.
As you would expect when you're done editing a PDF file you can save it (or any of its pages) in PDF format. Alternatively you could also save the pages as JPG or PNG images which may be useful if you'd like to then edit them using an image editor of some kind.
Simply put if you want a PDF editor for Mac that will provide you with the tools you need to edit, adjust, add to or alter PDF files – Movavi PDF Editor for Mac should definitely be on your list. Its comprehensive features will ensure you can perform practically any type of editing using it, and to add to that it is easy to use so you won't need to spend ages learning how to use it. In short it is a convenient PDF editor for any Mac user.