How to Make Wooden Pallet Signs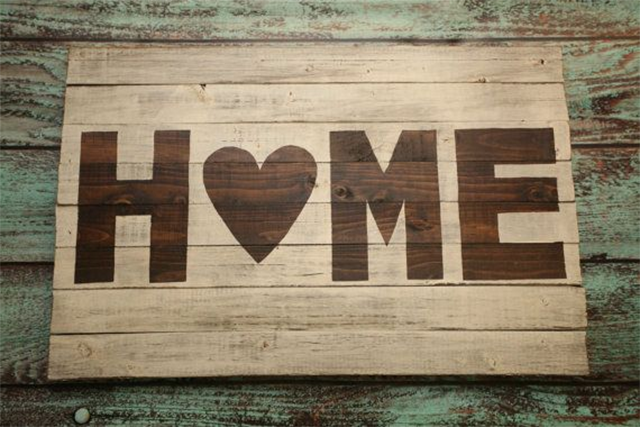 Upcycling has been growing in popularity over the past few years and still continues to do so today. One thing that a lot of individuals upcycle are pallets. Some people use pallets to make beds, as deck chairs, or in the garden as raised beds, for example, but another awesome use for pallets is converting them into some wooden signs!
The idea behind this form of upcycling is to create a unique, one-off sign that no-one else has created before, and you can customise it to your exact requirements. So whether you want a small or a big sign, and you want to use one colour or several colours, you decide exactly how your wooden sign looks!
Here is a tutorial on how you can create your very own wooden sign from a pallet:
What you will need
Before you begin, you will need these tools and materials:
A pallet, deconstructed;
Sign text and artwork, printed onto paper;
Some carbon paper (or white graphite paper for dark backgrounds);
A pencil;
Some sandpaper;
A cleaning brush;
Some paint, in your chosen colours, and some paintbrushes;
A tin of wood stain, in your chosen colour.
Preparation
Assuming that you have deconstructed the pallet, your first job is to grab your sandpaper and sand the wood down on the face where the sign is going to go, and on the outer edges of the wood, so that they are not jagged.
When you're done, remove any wood dust using your cleaning brush. You can use a vacuum cleaner instead of a cleaning brush, if you like.
Staining the wood
This step is optional, but recommended if the sign is going to be used outdoors.
Grab a paintbrush and some wood stain, and start painting your wood in accordance with the wood stain manufacturer's instructions. There are all sorts of great colours to choose from, and it's entirely up to you what colour you go for.
Drying instructions vary depending on the wood stain you used, but I would recommend waiting 24 hours before continuing to allow the paint to dry properly.
Tracing the outline from paper
Now that the wood stain is dry, it's time to make your former pallet look more like a sign. Grab your tracing paper and put it on top of the wood, and then put the sheet of paper with your printed design on top of that.
Next, carefully trace the outline of your sign on the printed paper using a pencil, applying enough pressure for the carbon or graphite to transfer onto the wood. Just make sure you don't apply too much pressure when you are tracing!
Painting the outline on the sign
When you are happy that the outline has been correctly transferred onto the wood, you will need to grab your paintbrushes and paint tins, and start painting the outline of the graphics and text.
Wait a bit for the outline to dry, and then continue painting the rest of them, and when you're done leave it to dry for a day or so.
Finishing up
Congratulations, you now have a finished sign! With these instructions, you will now be able to make all sorts of cool wood signs!