If you have room for a gazebo in your garden, I advise you to install one without delay. They are magnificent structures that have many uses. Maybe you would just like to retreat outdoors with a good book sometimes, or you like entertaining your friends out there. An unexpected shower will not be a problem if you own one of these versatile buildings.
They say that relaxation is one of the best tools to help people with anxiety, and the garden is a valuable resource for it. Anything that encourages us to spend more time out there than we do now has to be a positive thing.
Your Softwoods gazebo will need a sturdy base on which to stand. We are going to take a look today at how to build one like that in the image. It features bricks on the outer edge, filled with concrete. The process is straightforward but hard work, so at the end of it you will be exhausted from your labours.
Dig a trench for the outer walls of the base. Make it six inches deep by the same width of your shovel.
Put a two-inch layer of sand and hardcore in the bottom of the trench. Use a hand ram on it until it is solid. Take your time; everything else relies on a firm foundation here.
Mix some concrete to these proportions

One part cement
Three parts Sand
Three parts aggregate

Pour the concrete in the trench up to ground level.
Mix some mortar to these proportions

One Part Cement
Three parts building sand

Lay a damp course on top of the first row and continue to build the wall up to your required height.
Line the inside of the area to be filled, with a waterproof membrane. They are available from all DIY shops or builders merchants and are inexpensive. Make sure there are no sharp stones on the floor that will cause damage to it.
Mix the concrete in the same proportions that you used for the wall foundation. There is a lot to do, and it is impractical to mix it by hand, so hire a concrete mixer for the day; you will be glad you did.
Pour the concrete into the area surrounded by the retaining walls until it is full.
Using a wooden straight edge, make sure that the concrete is level. Rest it on opposing walls and tamp the concrete as you move it along.
When the concrete is level, make it smooth with a float.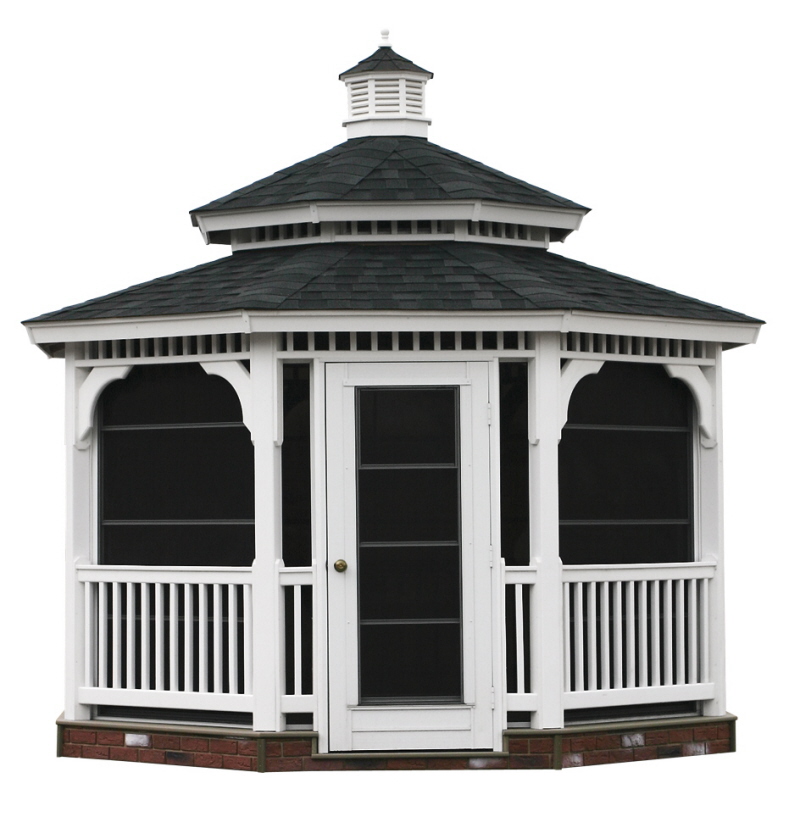 Alan Bernau
The base is now complete. You can cover the surface with whatever material you like to make your gazebo attractive. Maybe you will choose to lay some decking boards or tiles. The choice is yours.
If you want to make your structure stand out from the rest, a good base is vital. You can introduce lighting to the building and embellish it further over time. There is no end to the things you can do to make it a quirky or welcoming place to sit.
I hope you found this article useful; the base will serve you well. If the base is sturdy, the gazebo will last for many years. I hope you enjoy yours.