Colorado is internationally known for its stunning mountain ranges, wildlife, and outdoor activities. Denver, its capital offers numerous museums for those history geeks and art enthusiasts. Stay to one of the cabins in Colorado for the whole duration of your vacation to further turn your dream vacation into a remarkable one! Wake up with the amazing view and achieve an ultimate relaxation. Regardless of your preferences, Colorado has something to offer for everyone.
Here are the best things to do in Colorado:
Red Rocks Amphitheatre
This amphitheater can be found near Morrison, Colorado. It is a stone formation which offers raw beauty that will surely impress you. It was said to be used by the Ute Tribe prior to the expansion on the westward part of the area. Up to date, it serves an ideal place for live music performances for the bands and artists alike.
If you're into music, you'd surely admire the shows here at the Red Rocks. It is under the management of the city of Denver and numerous musicians with different genres have already performed here. Red Rocks Amphitheatre is one of the most picturesque concert venues in the world. You'd be in awe once you visit this place.
Mesa Verde National Park
Mesa Verde means green table in Spanish. It is located in southwest Colorado. This place is considered as a national park by Theodore Roosevelt in 1906. Due to its beauty, it is also a designated World Heritage site which is home to ancient Puebloan cliff dwellings. This place is perfect for history geeks and nature lovers alike. Don't forget to bring your camera when you visit Mesa Verde.
Since 7500 BC, Mesa Verde has been inhabited by nomadic tribes.  According to the experts, the first pueblos were built in 650 AD. Here, there is an impressive cliff dwelling that attracts visitors to visit the park and it is said to be built in 1200 AD. Spend more time learning a glimpse of history about these Native Americans as you witness the Cliff Palace as well as the Chapin Mesa Archeological Museum. For a much picturesque view of the canyon, drop by the Mesa Top Loop Road.
Strawberry Parks Hot Springs
Strawberry Parks Hot Springs is a paradise that you shouldn't miss as you visit Colorado. Here, you can have your ultimate relaxation in a wild and gorgeous setting. It is accessible to all. Don't forget to bring your swimming attire and take a quick dip in these natural springs so you can recharge. Try out the best Jacuzzis our Mother Nature has to offer.
If you plan to stay overnight, don't worry this is possible. The park also features a day area picnics and changing rooms. You can go and explore the nearby hiking trails or even bring your bike. After that, you can always relax and soothe your muscles as you dip in the springs.  This park's surroundings is filled with beauty and unique stone formations which will really make your visit a remarkable one.
Great Sand Dunes National Park
The Great Sand Dunes National Park and Preserve stands in contrast to the popular Rocky Mountain National Park where sandy dunes cover the entire land that resulted in a beautiful vista that will remind you of deserts. It is located in southern Colorado. Be sure to hit the largest dune here. It is called the Star Dune which towers over the rest.
You'll never be bored once you visit this place because there are numerous activities for outdoor lovers and the like. You can explore the trails and eventually pass through forests and wetlands which surround the dunes. Don't forget to visit Medano Lake. It is one of the several alpine lakes that you visit in Colorado.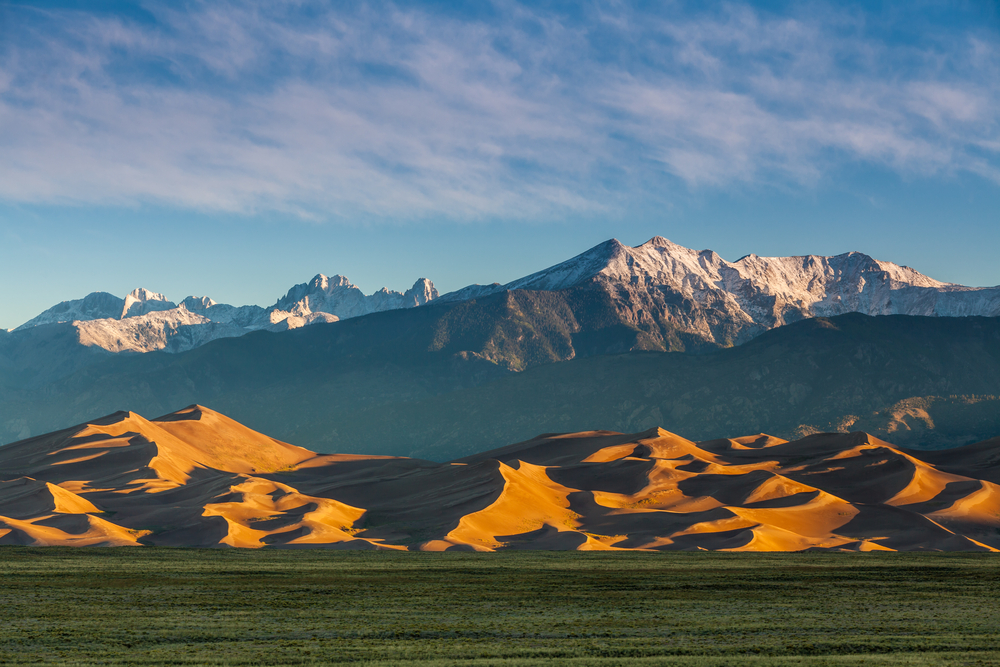 Fond of trekking? Try out the Sangre de Cristo Mountains. The Medano Pass Primitive Road will guide you on the way to the canyon until you reach your final destination.
Rocky Mountain National Park
This National Park is located in north-central Colorado. Specifically between the towns of Estes Park and the Grand Lake. In the northwestern part of the park, you'll find the headwaters of the Colorado River. This river is considered as the World Biosphere Reserve by the United Nations.
You can visit any of the 5 visitors' centers in the park. One of those is registered on the National Registry of Historic Places. It was designed by the Frank Lloyd Wright School of Architecture. It features numerous landscapes from mountains to mountain tundra and even a range of wildlife. Regardless of the duration of your stay, from a short hike, for a day tour or stay and go on for longer treks, the sceneries will surely mesmerize you. Be sure to visit the Arapaho National Forest or Indian Peaks Wilderness.
Toltec Scenic Railroad
You'll start in Antonito, Colorado since the Cumbres and Toltec Scenic Railroad is located in the said area. It runs until the Chama, New Mexico which has a total of 64 miles. Go on a trip back in time as you go through the old-fashioned and narrow heritage railroad. The countryside ambiance is definitely enjoyable as you pass through it. Have the best view of the Toltec Gorge. It is the inspiration where the name of this railroad is coined.
You can either book a coach seat or travel in a first class car. Just sit back and enjoy the ride. Along the way, you'll witness the must-see places like the Rio Grande and Carson National Forest.
Arkansas River
The birthplace of the Arkansas River is the Rocky Mountains. It is the most popular river in the United States. This is perfect for water rafting regardless of the duration that you prefer if you want to go on half day or turn into a much longer trip. It features numerous rafting routes depending on your expertise which ranges from family-friendly to expert Class IV.
If you are an experienced whitewater rafter, you'll commence in Bighorn Canyon. You can go for days and even camp on the side of Arkansas River which will definitely provide you a one of a kind nature experience. On the other hand, there are locations for experienced or new rafters namely Royal Gorge and Browns Canyon. Take your time to explore this side of Colorado.