How To Revamp Your Restaurant's Kitchen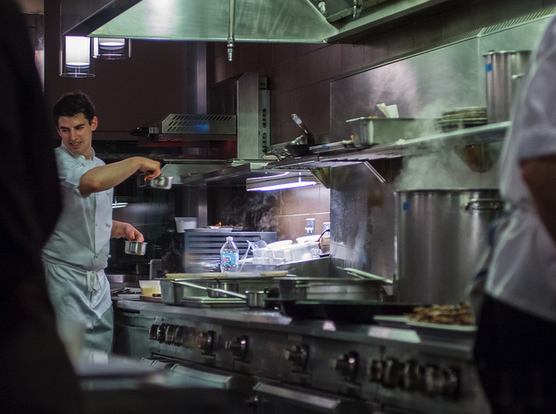 A crucial part of any business is the customer service that it delivers. Offer a bad service, and word will spread like wildfire that you run a poor establishment. But if you consistently offer a good service, you can almost be guaranteed of repeat business and new, regular customers!
When you run a restaurant, the service that diners receive will determine whether they come back in the future or not. Your restaurant might have friendly and attentive staff, but if the food you offer is mediocre in taste or poorly prepared, you are likely to attract the attention of local food inspectors!
Do you own and operate your own restaurant? If so, and the unfortunate example I gave above rings a lot closer to home than you would like, the chances are your restaurant's kitchen is probably in need of refurbishment.
A modern and efficient kitchen will ensure that all meals will be prepared in a timely and satisfactory manner, and the guaranteed satisfaction of your customers. In today's blog post, I will be discussing the best options and techniques for revamping your kitchen.
Health and safety
You need to place high emphasis on the health and safety of your employees. The Web is a great place to find resources on how best to ensure the welfare of your kitchen staff, but in summary the main points are as follows:
Fire escapes – they need to be easily accessible and sign-posted. They should also be unobstructed, so if you have been storing large vats of food ingredients by the fire escape door, you will need to find a permanent (and safe) place for them to be located;
Safety devices – if a problem occurs with one of your kitchen's cookers or equipment, you will need to have a clearly-marked point where safety shut-off valves or devices can be installed;
Cleanliness – your kitchen should be kept clean at all times, so that there is no danger of injury to people that might slip on something discarded on the floor, for example.
Flooring
Industrial flooring solutions are always a good idea for restaurant kitchens, because they will be hard-wearing and easy to clean. Carpets are simply pointless in any kitchen (commercial or domestic), and vinyl flooring can sometimes become unstuck, causing a trip hazard.
You should obviously fit any new flooring before installing new equipment into your restaurant's kitchen!
Equipment
All chefs rely on their kitchen equipment. They are essentially the tools of their trade, and so you need to invest in appropriate equipment such as commercial-grade cookers, dishwashers, appliances and so forth.
You will be covered for the initial cost of your equipment upgrade thanks to the increased productivity of your kitchen staff. Customers waiting 45 minutes for their meals will now be a thing of the past!
Lighting
Restaurant kitchens are not bright and airy places, so you should think about how best to light up your own kitchen!
The choices are pretty similar to what you can use in offices and industrial units, so it depends on what works best for you.