Once you have been bitten by the SUP bug, you will naturally want to purchase your own, ensuring that you can hit the waves ASAP. Choosing a paddle board can be a daunting prospect, particularly for those that are novices to the exciting sport. Regardless of your skill or level of paddle boarding, choosing the perfect paddleboard for you could not be easier. While choosing the perfect paddle board can seem like there is an overwhelming amount of choice available, this guide will help you, so how to choose a standup paddleboard:
Types of Paddle Board:
There are a number of paddle boards that you can choose from, so be aware of the choices that are available to you:
Surf specific boards
All-around/Touring boards
Inflatable stand up paddleboards
Racing Boards
Yoga Boards
Picking the correct board is entirely dependent on your level of skill and personal preference. If in any doubt, ask the experts for advice, they will be able to help you choose the ideal board.
Things to Consider:
Once you have identified the perfect paddle board, there are number of other considerations that you need to explore:
Body
Weight
Volume
Capacity
Size
Consider your own body specifications and what you need for your own personal preference.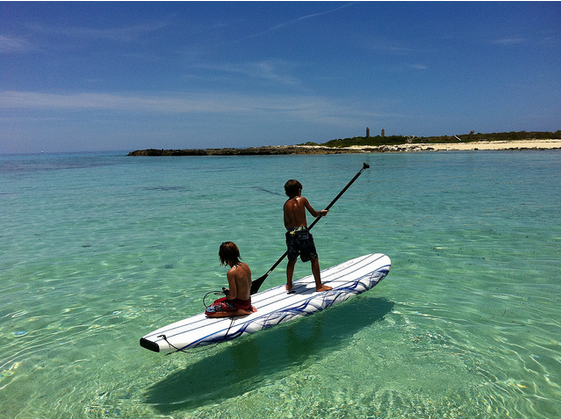 With thanks Ines Hegedus-Garcia for the photo.
Body and Weight:
Considering your own body and weight is important when choosing a stand up paddle board. A wider board may be ideal for those that are new to paddle boarding, whereas more experienced paddle boarders tend to go for more narrow, racing style boards. Do bear in mind that the width of your paddle board is one of the most important factors to consider when you are deciding which one to purchase. Stability is the name of the game when choosing a paddle boarder. Ultimately, SUP boards are made up to 36 inches wide, therefore accommodating for a wide variety of body types.  Regardless of what your body weight and shape is, there is a perfect paddle board for you.
Board Construction:
Boards are made from a wide variety of materials, so it is imperative that you pick the board that suits your needs. SUP's are made from the following materials:
Fiberglass
Plastic
Inflatable
Soft tops
Again, depending on your level of skill will depend on what sort of board you will need. Inflatable SUP's are very durable, which is perfect for those in training. What is more, they are  light to carry and can be used for a variety of paddling, from white water to slow speed, which is perfect for those who are a little more apprehensive of the waves. Inflatables are generally made of PVC with drop-stitch construction and inflatables are easily stored too and great for novices.
Boards can be hollow or solid, depending on what the stand up paddle board is going to be used for. Some people enjoy hitting the waves, while others are happy to lounge around on the open waves. Depending on what you use your paddle board for, will very much depend on the style and materials that you opt for.