For many people, becoming a sports professional is the ultimate goal. It's a dream come true and the gateway to a luxury life. The biggest football stars on the planet are now completing multi-million pound deals. They earn hundreds of thousands every week! If you follow in their footsteps, you too could drive a Lamborghini to the training pitch. You could spend your weekend playing in front of thousands in huge stadiums.
We always think that professional sports people must have some sort of God-given gift. We're here to tell you that's not always true. Instead, they just worked incredibly hard to get to where they are. There's no reason you can't follow the same path. With the right work ethic and good old-fashioned determination you can be a pro.
Make it your whole life
The very best footballers have dedicated their entire life to the cause. From a young age they've been honing their skills on the streets and fields nearby. They've been training and learning everything there is to know. You'll watch the professionals, follow the transfer rumours and immerse yourself in football. When it becomes everything you think about, you start to unlock your true potential. Football becomes a way of life!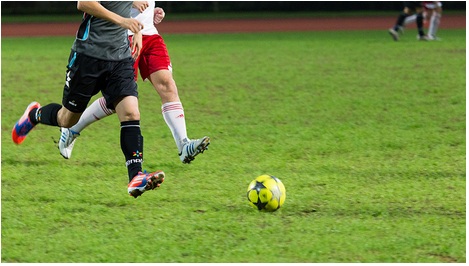 Start early
Unfortunately, there's very little chance of turning professional after your late twenties. Football is a young person's game and the best start as early as possible. Those motor skills and footwork all develop early and you need to capitalise on that. Many youngsters get snapped up as early as eight or nine years old. If you can develop your potential at that age, you stand yourself in good stead. However, if you work hard enough, anything is possible.
Join a good club
The reality is that all players get picked up from local clubs. The scouts won't find you doing keepy-uppies in your back garden! You've got to get out there and play against others. Find your local team and fight your way into the squad. Show off your skills and play to the best of your ability in every game. Earn the respect of your team and of your opponents. Playing as part of a team will also give you valuable practice against bigger and better players.
Look for scouts
The big teams all send scouts to find the next great players. These scouts watch the little leagues and the young Sunday teams. They're looking for a spark of talent or potential that could be realised. Your coaches may bring scouts down to the game from time to time. But, you can also be proactive about this. Record a video of your skills and get in touch with scouts. Encourage them to come to your games and show them what you can do!
Practice
When it comes to professional sports, there's no alternative to sheer hard work and practice. You'll have to improve your overall strength and fitness, and practice your weaknesses. Set yourself goals and targets and be the best football player you can be!
Making the professional leagues is not an impossible dream. If you can think it, you can make it happen! Start young, immerse yourself in the sport and practice. Best of luck and you'll be a pro in no time!