How To Choose A Showstopping Engagement Ring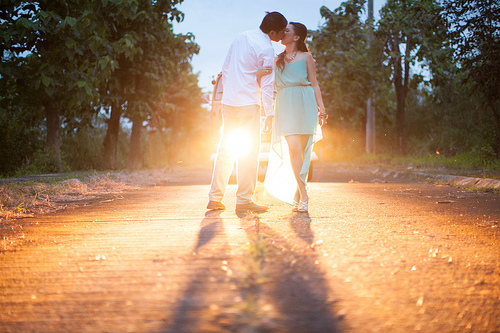 Choosing an engagement ring is probably one of the hardest things you'll ever have to do for a woman. This ring is supposed to symbolise your entire relationship effectively, and show all of your love for her as soon as she lays eyes on it. But they all look the same to you don't they? Don't worry, you're not alone. Many men find it difficult to choose an engagement ring, some even spoil the proposal and tell their soon to be fiancee to pick it themselves! But then it doesn't mean as much, does it? You and only you should pick the engagement ring, so the whole experience is a lot more special for both of you. Plus, if she really doesn't like it, you can always exchange it (check with your jeweller first)! Here are some tips to help you along the way:
Find Out Her Ring Size
Buying a ring that fits your soon to be fiancee is the most important factor. Picture the scene; pulling out the all important ring at the top of the Eiffel Tower (or wherever you've decided to propose), both of your eyes fill with tears, she squeals as she opens the box with cries of, 'It's beautiful! Yes! A thousand times yes!', alas; the ring doesn't fit and the whole experience is ruined. Try to steal a ring that you know she has worn but won't notice is gone, and then take it to the jewellers for an accurate size. You could always have a look at an online size chart if you're too scared to sneak it out of the house!
Leave Plenty Of Time
There could be many things that go wrong when choosing the perfect ring. Here's an example: You find the ring, yep, THE ring in a jewellers, only they haven't got it in her size and they need to order it in…it won't arrive for 3 weeks! You're planning on proposing on her birthday in 2 weeks! Disaster has struck. The only way to combat things like this happening is to leave plenty of time before P-day (proposal day).
Take a Look At Her Existing Jewellery
Her existing jewellery will give you an insight into the kind of metal she likes and the kind of stones she likes. If she has mainly gold jewellery, a gold ring is your best bet. If she only wears silver coloured jewellery, a platinum ring (if you can afford it) is the way to go! As for the cut of the stone, you might be able to get some inspiration from her existing jewellery but it'll be a challenge. You might just have to go with your gut!
Take Her Personality Into Account
Nothing in the rule book says that you have to be traditional. If you're an unconventional couple, choose an unconventional ring that she'll cherish forever! If she's one of a kind, commision a jeweller to create a bespoke engagement ring for the one you love. Only you know your girl best, so only you can choose the perfect ring for her. If you've never paid attention to her before, now's the time to start!
Budget Accordingly
Many people believe that 3 months wages is the perfect amount to spend on an engagement ring. This is obviously a lot of money, so spend as much as you can both afford without having to remortgage your house or sell your car. The ring is for life, but the gesture means more than the price!