How to Design Your Own Diamond Ring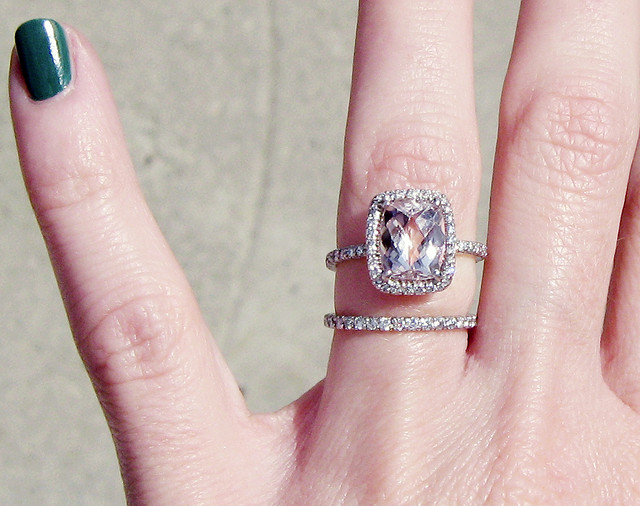 If you're looking for a special ring you can wear to big events and other special occasions but just can't seem to find exactly what you're after; you may want to design your own diamond ring. Designing and customising your own ring is something that a lot of jewellers offer, taking a few weeks to complete. Whether you want to design an engagement ring, an eternity ring or just a ring you can show off at parties, we've got the how to knowledge for you!
Determine Your Budget
Make sure you set a budget for the ring that you are comfortable spending. Some jewellers may try to get you to spend a little more on certain things, but don't be tempted if you know you've set the maximum amount you can afford.
Designing your own ring doesn't have to be expensive, it can cost anything from a few hundred to a few thousand (to hundreds of thousands of) pounds.
Decide On The Perfect Centre Stone
There are many stones you can choose for the centre of your ring, depending on your own personal style. You could choose a clear diamond, a bright blue sapphire, a deep green emerald, or perhaps even a stunning ruby as your centerpiece. You can then surround your centre stone with more stones – diamonds look great when framing anything, but you can choose what you like.
You won't just need to decide on the type of stone you have in the middle, you'll want to decide on the cut. There are many cuts available; princess, solitaire, round, and pear to name just a few. Pick the shape that stands out to you and what you think suits your personality.
Once you've picked the shape you like the best your jeweller will then purchase some quality wholesale loose diamonds to create your ring.
Decide On The Setting
There are loads of settings you can choose for your special ring; 3 stone settings, multi stone settings, and more. If you've seen a picture of the style you like you can even show that to the jeweller.
Decide On The Metal
What metal would you like your ring to be? You should pick a metal that will stand the test of time, especially if you're spending a lot of money on custom designing a ring. The most popular metals are yellow gold, white gold, and platinum, but you could also potentially choose silver, rose gold or titanium. It's all down to your own personal preferences, what you think will look great when paired with your wardrobe, and what you think will suit you.
You could even take into account your skin tone, hair colour and eye colour when selecting the colours of the metals and stones of your custom ring to make it really pop.
It's loads of fun designing your own custom made ring, as the finished product is suited perfectly to you; it's a piece of jewellery you can treasure forever and then pass on to your loved ones!