There are millions of people disabled in the world, and their only way of getting around is by using a wheelchair. The problems that wheelchair-bound people face is that not everywhere is wheelchair-friendly.
Let's put aside the obvious challenges wheelchair users face in public. Because another problem is closer to home – in a literal sense! Wheelchair users get limited by the properties they can live in because most are not suitable for wheelchairs.
If you are facing this issue with your new home-to-be, here are some ways that you can make your new abode more accessible.
Get a ramp built for your front door
The first challenge that you need to tackle is having the ability to get into your home! Most properties have one or more steps to traverse before you can reach the front door.
A simple solution to this problem is to get a ramp built for your front door. It has to be wide enough for your wheelchair to travel on, and strong enough to walk on.
Some folks have a simple tarmac ramp built for them. Of course, tarmac isn't the most attractive of finishes. An alternative option would be to have a block paved ramp fitted, complete with metal railings. The EasyPave website has many examples of the different styles you can consider for your ramp.
Fit wide doors
Some people find that they can walk around their house with a stick or some other walking aid. But for those that can only use wheelchairs, going from room to room can be a problem with narrow doorways.
It makes sense to have a builder come and fit wider doors and frames for you, especially for the front door. It will make your life easy, and it will also make the lives of your carers easy too.
Consider getting a downstairs wet room installed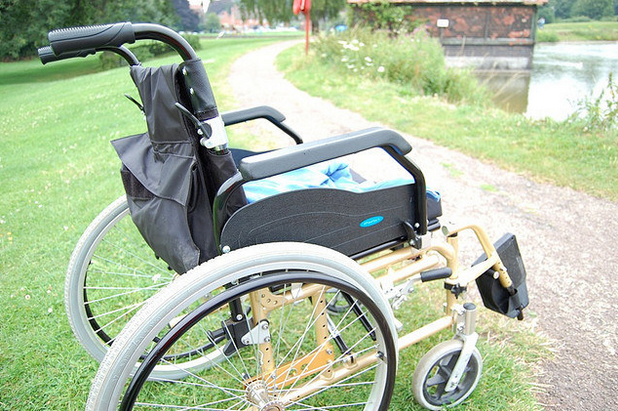 If your property has a ground floor and first floor, it's likely that your bathroom will be upstairs. Assuming you've got the space, you should think about getting a downstairs wet room installed.
A wet room is a waterproof room that has an accessible shower and toilet. It doesn't suffer from mould problems like conventional bathrooms do. And you can even get underfloor heating installed.
Get a lift installed
Some disabled and elderly people have stairlifts installed in their homes. But what happens if you are wheelchair-bound?
One answer to that problem is quite simple – get a lift installed! Domestic lifts for disabled people are simpler to use and cheaper to fit than standard office lifts.
The only downside to having a lift installed is that you have to sacrifice some space in two rooms in your home. Still, the benefits far outweigh the negative points.
Final thoughts
I hope today's blog post has given you some ideas on how to make your home more accessible. If you have any other ideas from past properties you've lived at, feel free to post up about them in the comments section below. Thanks for reading!