Camping is a fun, and exciting pursuit that millions of keen individuals and families take part in each year. Sure, people can stay in hotels when they go on vacation. But what if you want to experience the great outdoors and get back to basics in nature?
In today's modern world, it's all too easy to get lost in technology and convenience. We rely on stuff so much that many of us wouldn't know what to do if we lost it all! Camping is also a great way to teach others about wilderness survival skills. Especially if you are camping in an area inhabited by bears, for example!
The focus of today's blog post is to show you how to plan for a family camping holiday, regardless of where in the world you go. Here is what you need to know:
The boring stuff
Like most things in life, preparing for a family camping holiday requires a lot of preparation to ensure a great time. I must admit; the organization side of things isn't a fun thing to do in most cases. Still, it's something that needs doing.
The first thing you need to do is organize medical insurance for your family camping holiday. If you are camping in the same country that you live in, you might be lucky enough to have access to free state healthcare.
But even in those cases, it doesn't guarantee a quick response or resolution to any medical problems. That's why it is important to arrange some outdoor adventure insurance.
If you are camping abroad, you must make sure that everyone in your group has any vaccinations before they go. The last thing you want to do is make your family camping trip memorable for the wrong reasons!
Camping gear
Now we are getting onto the fun part of organizing a family camping vacation! Once you've sorted out insurance and vaccinations, the next step is to sort out what camping gear you need to take with you.
A suitable tent is an essential item, as are sleeping bags and pillows. Some people even use blow-up mattresses for extra comfort.
You will also need a fold-out table and chairs, a portable gas cooker (with gas!) and some kitchen essentials. I recommend taking plastic cups and cutlery with you as they are lighter and easier to take with you on your travels.
Some LED flashlights are useful for lighting up the way during the dark. You can also get a LED lantern to put outside of your tent so that you know where you've pitched up!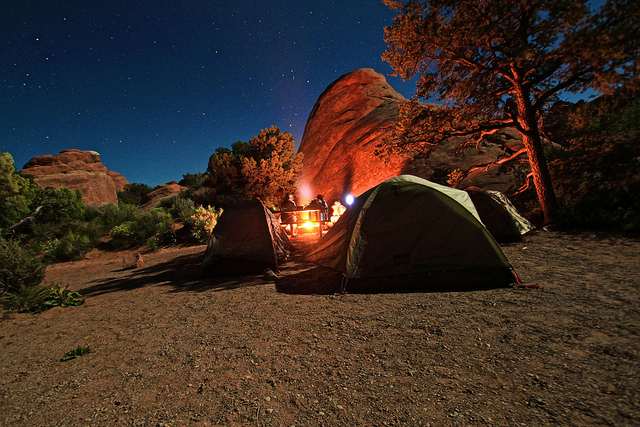 Clothes
Check out the latest weather reports for the area you are going to and pack appropriate clothing for your trip.
You should also take some waterproof clothing such as jackets, boots and overalls. Consider that it might get cold during the night, so pack warm clothes even if it's baking hot during the day!
I hope that this guide has been useful for you today. Let us know if you'd like to share your camping preparation tips with other readers.