How To Buy New Tyres For Your Car: A Guide For Newbies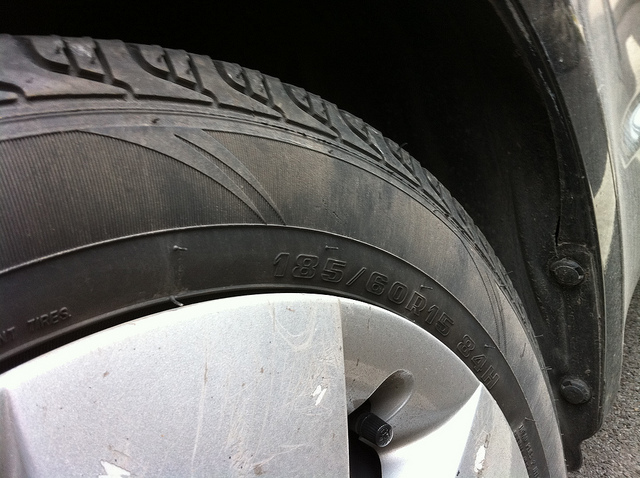 If you are new to motoring, then you will probably be aware that, at some points during your car ownership, you will need to buy some new tyres for your pride and joy.
Although you might think this is an easy task to accomplish, it can sometimes be confusing, and if you make the wrong purchasing decisions, you could even be paying over the odds for your new rubber.
So to combat this problem, here is a helpful guide that shows you how to find and purchase the perfect tyres for your requirements!
Step 1: Determine what tyre sizes you need
There are literally thousands of different tyre sizes on the market, and because each car can have different tyre sizes, you should not rely on websites that aim to find out what your tyres are based on just the make and model or registration number of your car.
What you will need to do is go to your car and read the tyre size, which is written on the sidewall (the part of the tyre which is vertical and facing you). You might see something that says "195/50 R15 82V" – this cryptic combination of characters is actually the information about the tyre's size and speed rating.
Here is what those letters and numbers mean (using the above tyre size as an example):
195 – the width of the tyre, in millimetres;

50 – the tyre height (sometimes known as "sidewall height"), expressed as a percentage of the tyre width, so in this case it is 50% of 195 millimetres = 97.5 millimetres;

R – denotes that the tyre is radial (all modern tyres are radial);

15 – the diameter of the wheel, in inches;

82 – the load index (what the maximum weight is that each tyre can carry), in this case 82 means 475 kilograms;

V – the maximum speed rating of the tyre, in this case V means 149 mph.
You can find out the load index and speed ratings for your tyres over at the Kwik-Fit website.
When you are checking the tyre size, bear in mind that some cars such as Porsches use two different sets of tyre sizes (same diameter tyres, but wider tyres at the back of the car) so if you are looking to buy four new tyres, make a note of the front and rear tyre sizes!
Step 2: Determine what type of tyres you need
Some tyres are marketed as summer tyres, some as winter, and some as all-season. Generally in the UK you will want to buy all-season tyres for your vehicle.
It is also best to stick to premium brands such as Continental, Dunlop and Goodyear as cheaper tyres aren't particularly good at giving you maximum grip in all weather conditions, plus they tend to wear out quicker – essentially resulting in you buying two or three sets of tyres, as opposed to buying one set of premium brand tyres!
Step 3: Shop around for the best deal
Once you are armed with the tyre size(s) that you need, get online and check out the various online tyre retailer websites to see who offers the best price. I tend to find the best price and phone up a local fitter, and they usually match or better the price quoted in my experience.
Sometimes you might even find a local car dealer such as http://www.sandles.co.uk could arrange to order in and replace your tyres for you during your car's service at competitive prices too.