How to Create the Ultimate Home Theatre Experience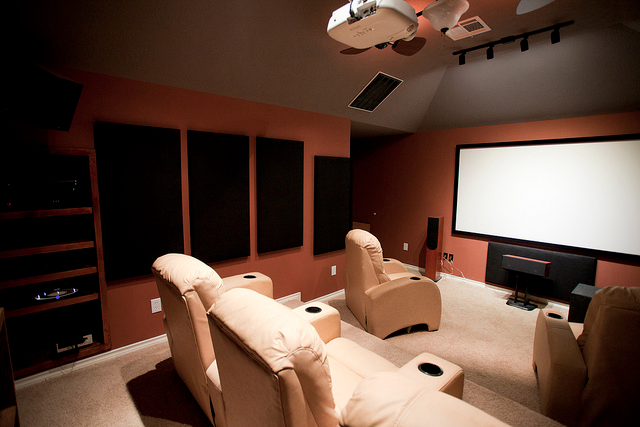 It is a pretty awesome experience when we go to the cinema. As soon as you walk into the screening room that is shortly going to be playing your film, you are instantly met by an impressive room with expert acoustics, an impressive seating area, and a massive screen!
When the film is finished and you make your way out of the cinema and head home, you are met by a really average flat screen TV with a pair of speakers – that's it. But instead of sitting there feeling all glum that you have a pretty pants entertainment set up in comparison to your local cinema, you can of course do something about it!
Check out this guide to creating the ultimate home theatre experience!
Seating
First of all, you should make sure that you have some really comfortable seats for your home theatre. If you are going to spend at least an hour and a half sitting down watching your favourite movies, you need to sit on something that doesn't give you back (or bottom) ache for the duration.
There are many different styles of home theatre seating on the market, ranging from the cheap and simple to the not-so-cheap ones that are exact replicas of what you sit in at the cinema. Just make sure that you do not get high-backed seats, as these can sometimes block the sound from your surround sound system.
TV or Projector?
If you have a big room in your home which you have designated as your home theatre room, then it makes sense to get yourself a projector. As great as big plasma TVs are, they will look tiny in a big room – especially if you are sitting some distance from it.
On the other hand, if you only have a small to medium sized room, then a TV may be a better option for you. Don't get me wrong, projectors work well in virtually all sizes of room, but if your designated home theatre room is only big enough to handle a 50-inch or 60-inch screen for example, you would be better off saving your cash for something else.
DVD or Blu-ray?
I would strongly recommend getting a Blu-ray player. Why? Because you can watch HD quality films, and you can also watch DVDs on it too. The cost difference isn't huge between a DVD player and a Blu-ray player, and you will be glad that you got one. Oh, to ensure you get the best quality picture from your Blue Ray Player make sure you invest in some decent but surprisingly cheap hdmi cables.
Smart Sounds
OK so once you have sorted out where you are going to park yourself and how you are going to watch your movies, the next thing we need is audio! A 7.1 surround sound system is going to draw viewers into the home theatre experience and make film watching just as great as being at the cinema.
How you configure your 7.1 system is entirely your choice. You can opt for a package system where all the necessary components are shipped in one box, or you can tailor your system to your exact specifications, mixing and matching different brands and types of speaker, AV receiver, cabling and so on.
Soundproofing
An important task to complete when you set up any sized home theatre is to soundproof the room. Not only will you improve the acoustics of your set up, but you will also keep out any unwanted noises from the rest of the house or even from outside – for example, traffic noise, noisy neighbours, etc.
Aesthetics
Next on your to-do list is to paint the walls a neutral colour (so that the light isn't reflected off your screen), and get some thick blackout curtains so that your home theatre can be in complete darkness even in the middle of a sunny day. Ideally you would have no windows in your home theatre, but in a home it's a good idea to have some for safety reasons (like if there was a fire and you couldn't escape through the door, for example). You should install some good, dimmable lighting that is evenly spaced around the room.
You might also wish to give it that cinema feel by putting up some movie posters on the walls, and having a little snack bar where you and your guests can be served snacks throughout the viewing of any films.