How to Dress Your Baby for Winter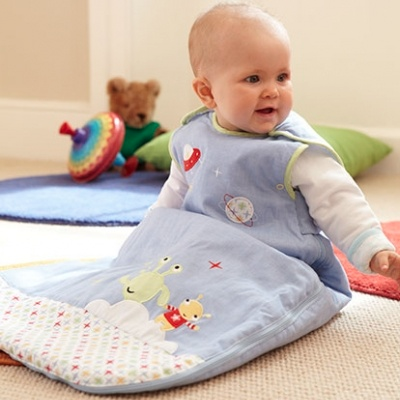 Dressing any child for the winter can raise some difficult choices, but having to decide how to dress a baby brings a whole new set of problems for conscientious parents to deal with. Babies are a lot more sensitive to fluctuations in temperature, so it's important to think about what clothes are appropriate for inside, as well as outside of your home.
As you spend more time with your newborn, you will start to recognise their reactions to being too hot or cold, and be able to react and change the situation. There's also help at hand if  you're still unsure of how to dress your baby for winter; here are some tips to help you ensure they're happy and healthy this season:
Hats
It's important to make sure that your baby has a well-fitting warm hat as this will help to retain body heat. A lot of heat can be lost if their head is not covered properly when in a colder environment. Bear in mind that your little one won't be moving around much when they're being wheeled around in a buggy, so it's crucial that you help them to retain their body heat with appropriate headwear.
Take care to remove baby's hat and coat once you're inside, or in a warmer environment, to prevent overheating. Don't worry about disturbing them if they're fast asleep as it's more important to keep their body temperature regulated.
Sleepwear
Dressing your newborn in thin layers is preferential to a thick sleepsuit as this means you'll find it easier to adjust their temperature. A short-sleeved vest and thin sleepsuit is adequate; you can then add layers of light fleece or cotton blankets until your baby is warm enough.
If your baby tends to kick off any blankets that cover them, you can opt for putting them into a sleeping bag which also prevents them from getting caught up in any bedding. Worn like a pair of dungarees, the bottom of the sleeping bag gives your baby the freedom to move legs and feet, whilst keeping them warm and cosy.
Outside
When taking your baby out and about it's best to dress them in several thinner layers that can be added to  or removed when necessary. It's a good idea to have a couple of blankets that can be used to cover your baby when in the car or buggy, as these are a lot easier to remove than clothing if your baby becomes too hot.
A warm pair of mittens is also essential for making sure your baby is protected from frost nip as their hands can become extremely cold very quickly.
If dressing your wriggly baby is way too stressful, why not dress them as usual and then put a snowsuit over the top? The insulation that a good snowsuit offers will keep your little one nice and toasty even in the coldest weather.
Newborns
If you have your baby at hospital, you will find that you only need to dress your baby in a vest and sleepsuit as the ward will be very warm. You can add a few more layers and blankets for your baby when you make the exciting trip home. If you're worried that your newborn is too hot or cold, the best way to check is by placing your hand on the back of their neck or chest. Your baby's hands and feet will usually be quite cold for the first few months, so they're not a good temperature gauge.
Try to find a good selection of newborn baby clothes that can be mixed and matched to help you regulate the body temperature of your child.