Playing rugby is a great way to get in shape and stay fit. The best way to get yourself playing rugby is by starting a team. So, round up your mates and start your very own local rugby team. Here are some tips to guide you:
Find A League
If you get on the phone to your local council, you should be able to find a few rugby leagues to join. There will usually be a couple that includes teams from your local area. In most cases, you'll be allowed to join the league in the following season, if you enquire midway through the current one. You'll have to pay an entrance fee as well as insurance and a lot of other additional costs. Usually, you cover these costs by charging your players a fee at the start of the season.
Find A Pitch
Every rugby team will need a pitch to play their home games on. When you play away from home, you won't need to worry about a pitch because the opponent supplies it. But, half your games will be at home, so you need to find a pitch. Again, phone up your local council or ask around for any free pitches. It might be an idea to contact any schools or colleges to see if they'll let you use their pitch. Of course, pitches cost money, but you should include this in the player fees to help cover the costs.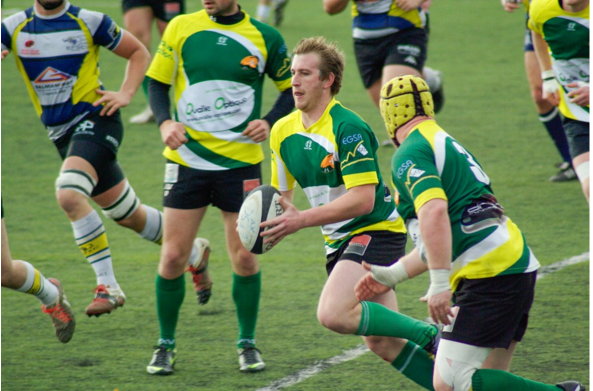 (pixabay: https://goo.gl/uLiIdh)
Get A Team Kit
Obviously, a rugby team can't play if you haven't got a kit. You need to find something that your team can wear, and it will differentiate you from other teams. Don't underestimate the importance of your rugby kit. It may not seem like much, but it can help build a team identity. In my eyes, you want to stand out from the rest and get a kit that's different to the other teams. This makes your team look different; people will be wary of you because of your awesome kit. Thankfully, it's not hard to get your hands on some fresh kit, just make sure all of your teammates know how to wash it, so they don't ruin in! Also, I'd stay away from a white kit; you don't want to deal with a muddy white kit.
Get Training Supplies
You've found a league, got a pitch, ordered your kit, and now you're almost ready to rock and roll. The only thing missing is some training supplies. Naturally, your team will need to train to get better and better. And training means you need some extra stuff. Buy lots of rugby balls, cones, and other things you can use for drills. It's important you get the best stuff possible, so your team can have quality training sessions. Also, pick a day of the week to train where the majority of your squad are available. If you don't get good numbers for training, then what's the point.
Remember; rugby teams require around 22 or more players. You have 15 starters and then some replacements. It's crucial you have a dedicated group of players that are willing to turn up every week. Otherwise, you may as well not bother.