Vandalism has long been a major public concern on a global scale, especially in urban areas. Try and look at your surroundings on your way home from work tonight, and you'll notice symbols, tags, writing and images stained on the walls in the most inappropriate places.
In special cases, graffiti isn't illegal. Some artists are actually commissioned by the local council to paint some of the walls in the city. However, when graffiti artists use any random wall, on private and public property, without permission – it's illegal, and a form of vandalism.
Graffiti used to be considered art; but in recent times, people have started to needlessly spray shop doors, windows and walls with anti-government slogans, obscene images and pointless gang symbols. This negativity has distracted us away from the real graffiti artists out there; that spend time working on something beautiful and creative to give a blank wall a bit of life.
Another damaging negativity is the correlation between the amount of graffiti and crime rate in the area. Typically, the more graffiti, the higher the crime rate. It's usually associated with gang-related crimes, violence, loitering and littering – and they are the problems that are most commonly associated with modern day graffiti, or in this sense; "turf tagging."
Graffiti On City Property
As you might imagine, the government is rather strict when it comes to vandalism. For instance, if an inspector sees your property vandalised, he or she will give you a notice suggesting that the markings need to be removed within 72 hours. If you're trying to sell that property, there's the general assumption that crime rates are high in the area, so your house will be undervalued as a result.
Despite what many residents in heavily graffitied areas think, it is not just the responsibility of the inspector alone. It is yours, too. Once you do not remove the graffiti on your walls within 72 hours, the city will do the cleaning for you. Still, there is no reason for you to feel lucky just because you are spared from all the dirty work because in some places you will be charged a fine accordingly.
Getting Rid of Graffiti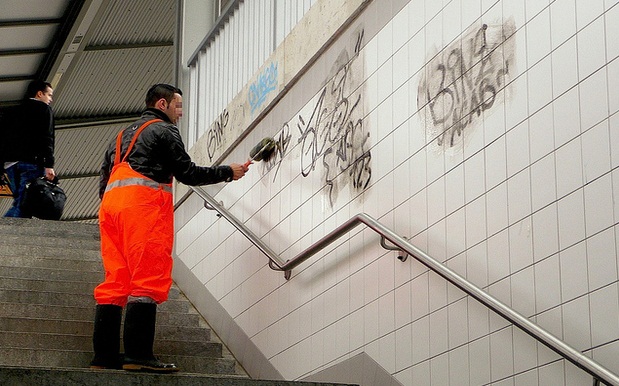 To get rid of graffiti is a fairly difficult task because of the liquid aerosols, paints and oil used in creating it. So, here are some effective methods you can try.
Campaigns – Producing campaign materials against vandalism, with the youth as its target audience, is an effective way to teach and discipline offenders.
If graffiti or vandalism is a major concern, why not create a spot in the area for a freedom wall? Through this wall, many people can freely express themselves without violating any law, and staining public and private property.
Chemical Solvents – The fastest way to remove aerosol based graffiti is to use paint thinners on it. Paint thinners are available at any hardware shop or department store. These are widely recommended because they have chemical substances that soften paint, making it easier for you to get rid of graffiti.
Re-painting – After removing the graffiti, you can repaint the area where the images were painted if you wanted to restore the beauty and value to your property. Using thinners or paint removers will not completely remove every inch and mark of the graffiti.
If the graffiti was created on a painted wall, the original paint and colour of your wall would be affected because the chemical solvent that will dissolve any liquid aerosol particle it meets. So, if you want your property to have a brand new look, re-painting is the best answer.
Do your part in making the city a better place to live in, not only for you and your family, but your neighbours too.